Marty Godwin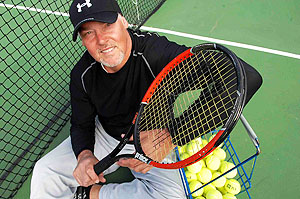 Director of Racket Sports at Bay Side Resort Golf Club - Marty Godwin learned tennis in Ft. Lauderdale, Florida during the tennis boom of the 70's and played on the team at Ft. Lauderdale High. Marty went on to play at Wake Forest University and graduated with Dean's List Honors in 1981. While there Marty got a chance to teach during the summers with Coach Jim Leighton , one of the country's best teachers and a legend in North Carolina! It was there that Marty developed his teaching style patterned after Coach Leighton focusing on strong fundamentals and an emphasis on correcting swing flaws.
After graduating Marty was offered his first job in tennis at THE UNIVERSITY CLUB in Houston, Texas. Immediately Marty was mentored in the business side of tennis from Bob King, Texas' premier and high profile tennis professional. After several years in class Marty was awarded the Director of Tennis and Athletics position at Tops'l in Destin Florida in 1987 [ Top 50 resort in the USA ]. After a serious car accident and rehab in Houston Marty was recruited by Ron Hightower [ USPTA Pro of the year and former ATP top 50 in the world ] to join him at THE RIVIERA COUNTRY CLUB in Pacific Palisades California [ Top 10 ranked golf club in the world ]. At that time Marty Godwin Tennis was developed and went on to be the premier tennis operation in town. Marty used his experience and valuable time spent with his teachers to be the family pro for Arnold Schwarzenegger and Maria Shriver, Bruce and Patti Springsteen, Meg Ryan and Dennis Quaid, Rob and Michele Reiner, Gretchen and Randy Newman and many more of Hollywood's elite!
Marty moved to Delaware and continues to bring his brand of tennis to the beach resort area. Upon moving here Marty has been awarded the USTA PRO of the Year, USTA TOURNAMENT DIRECTOR of the YEAR, and continues to use tennis to help service organizations around the world like Samaritan's Feet, Malaria No More , Ronald McDonald House, Wounded Warrior Project, St. Jude's Children's Hospital and Smile Train. MGT offers a unique and special opportunity to learn and play tennis for any age or level! His style and brand of teaching has been recognized as the best anywhere. Give it a try and see how fun tennis can be!
Best,
Marty