Tennis professional puts families first
Sports By Ryan Saxton
Staff Reporter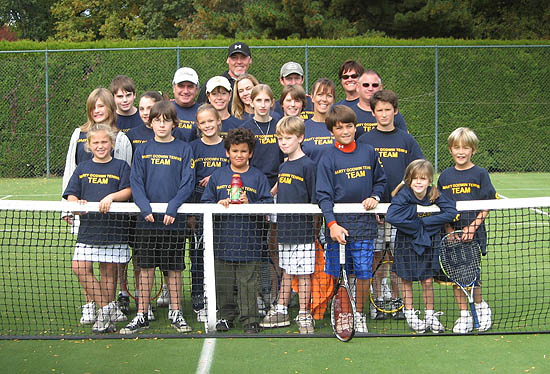 Since originating in upper-class England during the late 19th century, the game of tennis has always held a sense of prestige and respect. For that reason, today, the game is still most popular near the top of the social ladder. But, thanks to at least one pro, the sport is making its way back to players of all ages and all walks of life.
Marty Godwin (back row, black hat) stands with a youth team at the Wilmington Country Club. In addition to teaching the sport to ambitious players of all ages, Godwin was named 2008 Delaware Tennis Pro of the Year by the United States Tennis Association.
For Marty Godwin, tennis is more than a passion. It's a tool to help teach an intrigued mind. It's a tie that helps bind families closer to one another. His efforts to do just that have not gone unnoticed, as the United States Tennis Association (USTA) recently recognized Godwin as the 2008 Delaware Pro of the Year.
"It's gratifying," he said, "to have people listen to the message you're trying to spread."
For more than two decades, Godwin has been touching the lives of hundreds through tennis, bringing the joy of the game not only to youth, but to families nationwide. From clinics, lessons and camps, to tournaments and charity events, Godwin stops at nothing to lend a hand through the love of the game.
"I have the opportunity as a teacher," he said, "to focus people's lives on something they can do together. Tennis is an extension of the classroom, and that's the setting I want to bring back onto the courts."
Currently, Godwin is the director of tennis and athletics at Kings Creek Country Club in Rehoboth Beach and Bayside Golf Resort in Fenwick Island. He is also the tennis pro for the Salt Pond in Ocean View.
Since returning to Delaware from California, he has helped assemble numerous events that provide a fun learning experience, as well as give back to the community. Tournaments such as Shoes of Hope, Boo Bash, American Idol Tennis Charity event and Race to Erase MS – all of which have sold out – are just a few of the statewide events Godwin has helped put on. He's also looking into working with more organizations throughout the state and region, including the Lower Delaware Autism Foundation.
"It's great," he said. "It gets kids out there and teaches them the importance of giving back to the community. No pros have really thought to do anything like this in Delaware, but since I've started, I've been blown away. You wouldn't believe how much activity you can find."
After moving to Los Angeles some 17 years ago, Godwin quickly found himself among celebrity royalty, perfecting the tennis skills of Bruce Springsteen, Randy Newman and Arnold Schwarzenegger. Tennis quickly became not only something for them to enjoy, but something with which their entire families could become involved.
"You can bring the kids to soccer practice or lacrosse," said Godwin, "but, most of the time, the parents are spectating and not participating with the kids. Tennis helps to bridge that gap. It's hands-on for everyone, and it really brings parents closer to their children."
That initial network of celebrities allowed Godwin to share his teaching to a host of well-knowns and their families in California, including Meg Ryan, Rob Reiner, Sting, Tom Hanks, Dennis Quaid and many more.
Godwin returned to Delaware in May 2007 and wasted no time replicating the things he taught out West.
"I realized how much families were appreciating what I was doing," he said, "and I wanted to get back to my roots. I was having so much fun out there, and something went off. I realized that this concept could work anywhere, and I needed a new challenge."
Upon returning to Delaware, Godwin has spread his business, Marty Godwin Tennis, throughout the state, from Wilmington to the southern Maryland border. With two children of his own, Godwin draws a close connection with the family involvement that his programs promote.
Year-round sessions and tournaments, including his recently established quick-start program at Cape Henlopen High School – supporting regions in the wintertime and areas without readily available courts – help ensure activity, no matter what time of year it is.
The upcoming year promises another slew of tournaments, charities and play days, while lessons and clinics are also available.
"Tennis is still perceived as this upper-class sport," he said, "but it doesn't have to be. I realize that there aren't families here who are going to pay hundreds of dollars for their kid to take a few lessons. That's why my prices are much more reasonable. Tennis should be something that everyone has the opportunity to play, no matter what."
Visit www.martygodwintennis.com online to stay current on upcoming events and clinics with Marty Godwin Tennis.
Published in Coastal Point, January 23, 2009, Volume 6, No. 4
http://www.coastalpoint.com/content/tennis_professionals_put_families_first