Marty Godwin selected as the 2009 USTA De Tournament Director of the Year.
The USTA announced Nov. 24 that Marty Godwin, director of tennis at the Bayside Golf Resort in Fenwick Island and Kings Creek Country Club in Rehoboth Beach, has been named their 2009 Delaware tournament director of the year. The USTA gives this award to an individual who manages and runs USTA-sanctioned tournaments in a section while providing participants, officials and spectators a quality experience. Those who run multiple events, community-friendly events or display innovation and creativity are considered for this award. Those are the qualities the USTA sees in Marty Godwin. Since moving from California in 2007, Godwin has worked tirelessly in the Cape Region to grow the game of tennis. The USTA recognized his efforts last year by awarding him with the 2008 De laware Pro of the Year Award. Since receiving the 2008 award, Godwin spent the last year working even harder to widen the scope of his reach to expose as many people as he can, adults and children, to the game of tennis. Godwin was the first tournament director in Delaware to hold a USTA-sanctioned QuickStart Tournament (QST) for children 10 and under. He currently offers a QST after-school tennis programin 22 area schools. In addition to these programs, as well as various other tournaments, some of the annual charity events held by Marty Godwin Tennis benefit organizations like the Ronald McDonald House, Malaria No More (International), Samaritans Feet (National and International), Wounded Warrior Project (soldiers worldwide), Lower Delaware Autism Foundation (tournament as well as a 24-hour tennis marathon) the Boo Bash and Turkey Bowl (both of which benefit local food banks). Godwin will be presented with this award on Jan. 10 at Bellevue Hall in Wilmington.
Marty Godwin named
USTA Delaware pro of year
Charitable efforts far reaching for tennis director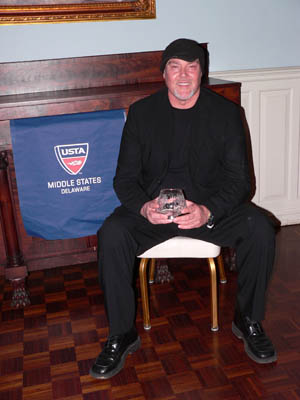 Marty Godwin accepts the 2008 USTA DE DIV Pro of the Year Award on February 8, 2009 at the Bellevue Mansion, in Wilmington, DE.
Cape Gazette (Wed, Jan 21, 2009) The United States Tennis Association has announced that Marty Godwin, director of tennis and athletics at Kings Creek Country Club in Rehoboth Beach and the Bayside Golf Resort in Fenwick Island, has been selected as USTA Delaware pro of the year.
The USTA chose Godwin based on his unyielding passion for promoting the game of tennis and for his extensive philanthropic endeavors involving this same sport. Since moving to Delaware more than a year ago, Godwin has been relentless in his attempts to promote tennis throughout the state and beyond.
At the present time, Godwin is involved with the Cape Henlopen School District, as well as with private schools in the area, bringing tennis to those that may not have the opportunity to take a lesson. This is the only program of this type in the area.
Godwin operates year-round clinics, lessons, camps and tournaments to sold-out crowds of enthusiastic clients and students. Through the sport of tennis, Godwin uses his extensive philanthropic efforts to continually bring the whole community together to help those that are less fortunate. Godwin's charitable efforts are far-reaching, touching the lives of people both in this country as well as all over the world.
Godwin has built his extensive tennis career on reaching out to the forgotten populations in every community he has worked in. Delaware is certainly no exception. It is because of Godwin's passion for teaching and promoting the sport of tennis, and for continually reaching out to those less fortunate, that the USTA is pleased to have chosen Godwin as USTA Delaware pro of the year.
The ceremony where Godwin will be presented with the award will be held Sunday, Feb. 8 at an awards dinner at the Bellevue Mansion at Bellevue State Park in Wilmington.
http://www.capegazette.com/storiescurrent/200901/godwinmartytennis20.htm

Tennis is Pure FUN
That's what it's all about!
(Click pic to view)