Bear Trap's Godwin named 2015 USTA Pro of the Year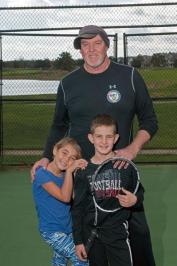 Coastal Point • R. Chris Clark: Marty Godwin, 2015 USTA Pro of the Year, and his kids Miley and Miles at Bear Trap Dunes in Ocean View.
He's been backstage with Bruce Springsteen on the set of "Saturday Night Live." Randy Newman threw him his 40th birthday party at his home in Los Angeles. And he's even landed his first movie role with Meg Ryan in Chile. But none of that would compare to the letter Marty Godwin received from the United States Tennis Association, naming him the 2015 USTA Pro of the Year.
"It was totally unexpected. I had to look at it twice," Godwin said of finding out the news. "I don't even know who nominated me this year. It was kind of a surprise."
Now serving as the director of tennis at both Bear Trap Dunes in Ocean View and King's Creek Country Club in Rehoboth, Godwin's mission has been teaching families and growing the game. So when he moved back to the area from L.A. in 2007 to raise his own family, that's what he aimed to do — teach the game from the ground up.
It was under that mission that he by founded Mobile Preschool Tennis and started offering lessons at the Boys & Girls Clubs in Millsboro and Georgetown for families that might not otherwise be able to afford them.
"That's my way of growing the game. It's always been about teaching families," Godwin said. "A lot of these kids wouldn't have the ability to have a racket in their hands — there's great groups of kids in Millsboro and Georgetown. My son Miles helped me teach a lot of the classes this summer. He went around with me and helped out."
It's the second time Godwin has been honored with the award during his career, as the USTA continues to acknowledge his efforts as both an instructor and ambassador of the sport. However, interestingly enough, Godwin started out playing basketball and didn't develop an interest in tennis until his family moved to South Florida. It was there, during the peak of the sport's popularity, that he witnessed some of the nation's best players at the world famous Jimmy Evert Tennis Center in Ft. Lauderdale.
"When we first moved to Florida was when tennis was at its all-time highest popularity," Godwin recalled. "I didn't take up tennis until then. I was actually getting scholarship offers for basketball."
After getting to see tennis legends including Chris Evert and John McEnroe first-hand, Godwin launched his tennis career, earning himself a scholarship to play at Wake Forest University. But even then, eventually becoming a pro wasn't the plan.
"I never thought I'd be a tennis pro, but I got offered a summer job and ended up loving it," he explained. "Then I got offered a job in Texas and ended up wanting to continue."
It was in Texas that he learned the tennis "business," eventually drawing enough notice as a pro to be whisked off to California to work at another world-famous facility — the Riviera Country Club in Los Angeles. That's where he'd land star clients including Springsteen, Newman and Ryan, and added big names including former California Gov. Arnold Schwarzenegger, actor Dennis Quad and director Rob Reiner.
But despite the overwhelming success — as each celebrity client seemed to recognize his talents and charisma as an instructor and recommend him to others — Godwin remains humble, and attributes making a name for himself, in a city where everyone seems to be trying to do the same, to the help that he received along the way.
"Each step along the way, there have been people who have mentored me or helped me along the way," he said. "In L.A., it was Randy Newman. I was playing tennis and then I got brought on to the team at Wake Forest. I learned the tennis business from an amazing tennis pro in Texas, Bob King. And then the circle, it goes back to me teaching where I fell in love with tennis — it's pretty cool."
That circle Godwin refers to marked what he sees as the pinnacle of career. After all the accolades and celebrity clients and world-renowned facilities, he was recently offered the director of tennis position at the Jimmy Evert Tennis Center and for the City of Ft. Lauderdale — the place where, for him, it had all started.
However, just as he had given up his rock-and-roll lifestyle in L.A., Godwin had to turn the dream job down. Because, just as his tennis mission has always stated, for Marty Godwin, it's all about helping families, and his family is right here in Delaware, where his son Miles and daughter Miley are growing up with the game themselves.
"I had to turn it down, but that's the most flattering thing, the director of tennis position for the City of Ft. Lauderdale. But there's nothing more important than me spending time with my kids," Godwin explained of the difficult decision. "The minute we had our son in L.A., something went off in my mind — I wanted to get away. I had done everything you could do, I did it all, but now I just wanted to have a positive experience for my son."
And just as Godwin will stay committed to the area, he'll also stay committed to the game and his mission to continue developing it from the ground up — whether it be at Bear Trap, King's Creek, local Boys & Girls Clubs, or wherever else.
"I'm committed to Delaware tennis. I'm committed to growing the game throughout the state and the Delmarva region. I'm here," he said. "We have great homeowners here at Bear Trap that are helping me grow the game — this is an amazing facility.
"I know what I can do with tennis, and I love the fact that here it's kind of unveiling a new wave — going in these school and seeing the kids light up. It's so much fun. Having the ability to make an impact on a family's life is really kind of the thing that I love about it. Taking a kid that maybe doesn't feel confident in themselves and showing them how to hit a tennis ball, giving a kid the opportunity to play — that's really what it's all about."