USTA honors Marty Godwin as pro of the year
Family approach to teaching tennis draws award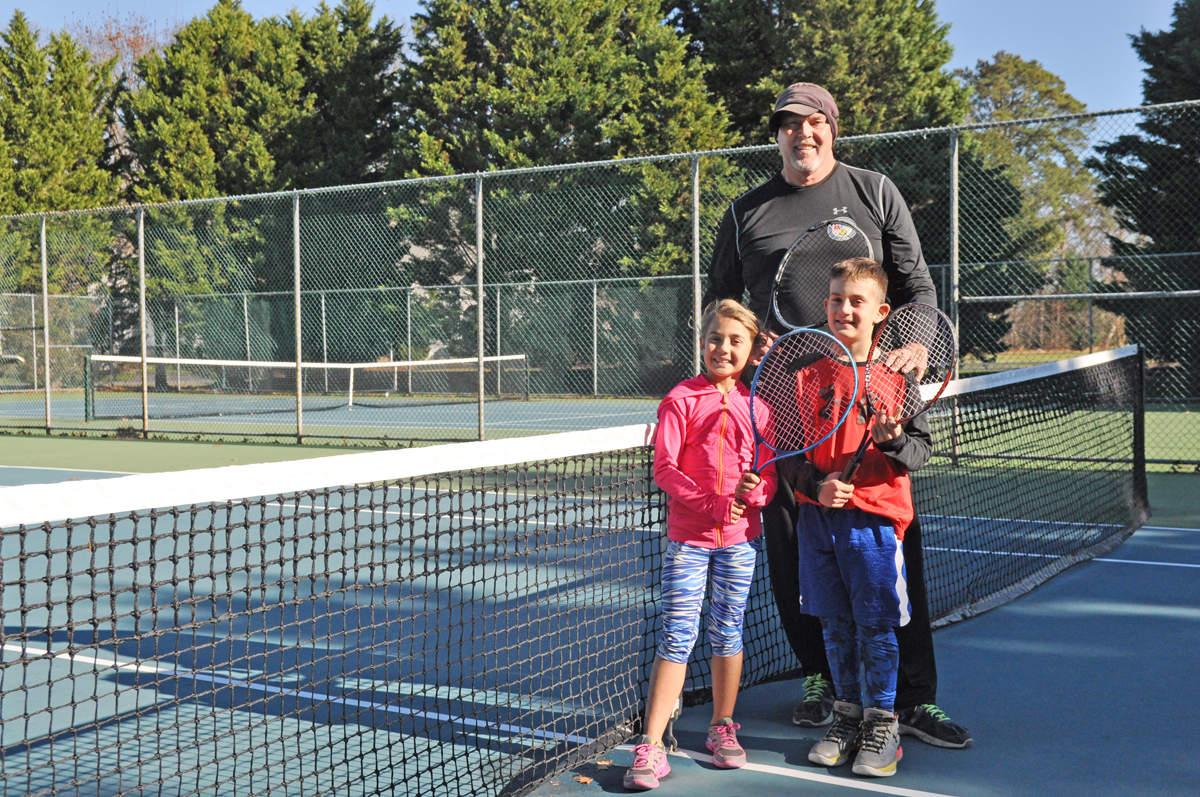 Local tennis pro Marty Godwin was recently named the USTA Delaware District Pro of the Year for southern Delaware. He is shown on the courts at Kings Creek Country Club with his daughter Maile and son Miles.
By Nick Roth | Dec 22, 2015
When Marty Godwin left the glitz and glamour of teaching Hollywood stars in 2007, he sought a calmer lifestyle in slower lower Delaware.
He quickly established himself as a competent tennis instructor with a skill for introducing children to the game of tennis. Over the years, his tenacity for growing the game has not wavered, though his approach has morphed into something of which he is very proud.
In 2013, he created Mobile Preschool Tennis, a youth program that goes into preschools, elementary schools, aftercare facilities and Boys and Girls Clubs and teaches children the basics of the sport. Within two years, Godwin has the program running in Delaware, Maryland and Florida, with plans to expand to Washington, D.C.
"The formula I use for teaching private lessons and clinics is very basic," he said in his calm and cool demeanor. "If you do four or five things, you're playing tennis right away."
Godwin can adapt his program to fit a school or facility of any size. At the Jefferson School in Georgetown, he said, he taught students in the smallest classroom imaginable. He uses the confined space to his advantage.
"The first two limbs on the tennis tree of life are consistency and accuracy," he said. "When you're in a small classroom, you can't be whacking the ball all over the place. You've got to be focused on control. I love it because it really makes [kids] learn the basics of tennis."
Godwin's program has also been used locally at Sussex Academy, Eagle's Nest Academy and Sussex County's Boys and Girls Clubs as well as Wilmington Friends School. He started the program in 2013 at Bayview Elementary and St. Anthony Catholic School in Fort Lauderdale, Fla.
"It's a great win for the facility, a great win for the parents and a super win for the kids," he said.
It's also affordable, he said, averaging about $5 per half hour and $10 per hour. Some schools even cover the entire cost, he said.
Godwin often posts videos and photographs of his students in action on Facebook. He said he believes his social media presence may have helped demonstrate his passion to the United States Tennis Association. This fall, he said, he noticed an uptick in the activity on his page. Shortly thereafter, he said, he was notified he had been named the Pro of the Year for southern Delaware, the second time he's won the award since moving back to Delaware.
He said it's a great honor to be rewarded for doing a job he loves.
"Every day I wake up, I just love going to the courts," he said. "I fell in love with the idea that you can make an impact on a family's life through tennis."
Godwin admits he did not always want to be a tennis pro. In fact, as a freshman in high school, he was already attracting a lot of attention from colleges for his basketball skills. Towering over a tennis net, it's easy to see why basketball was once part of his life. After moving to Florida with his family, though, he traded his basketball for a tennis racket and the rest is history.
He learned the game at the renowned Jimmy Evert Tennis Center. Evert, who died earlier this year, was the father of tennis great Chris Evert.
"After getting college scholarship offers for basketball, I didn't want to throw all that away, so I worked my tail off in Florida to learn tennis," he said.
His natural ability and hard work paid off, as he rose through the ranks in his age group. He was talented enough to play at Wake Forest University under legendary coach Jim Leighton. Godwin considers Leighton one of the best tennis instructors in the country, and credits Leighton for noticing his talent for teaching as well.
"I never thought I'd be a tennis pro, but I got offered a job here in Rehoboth one summer after graduating," he said, referring to Rehoboth Bay Sailing Association. It was there, he was connected to Texas pro Bob King, who gave Godwin his first full-time job as a tennis pro at the University Club in Houston, Texas.
After eight years in Texas, Godwin moved on to California, where he was offered a job at the fabled Riviera Country Club in Pacific Palisades. That was when Marty Godwin Tennis was formed. Through word of mouth, Godwin started building a reputation among the Hollywood elite, and he was able to teach the families of Bruce Springsteen, Arnold Schwarzenegger, Dennis Quaid and Randy Newman, among others.
But while he spent nearly 20 years rubbing elbows with some of the entertainment industry's biggest names, he said, he felt like there was still more to do.
"I realized for the next phase of my career I wanted to teach groups rather than just one person," he said. "Kids were the first place I wanted to look to grow the game."
So after his son Miles, now 8, was born, Godwin moved the family back home to Delaware. He added daughter Maile, now 6, to the clan since being home.
"I lived here as a young person, and I wanted my kids to grow up on quiet streets," he said.
Admittedly, he said, the Cape Region is a lot busier these days.
Godwin gets to relive some of his glory days on the basketball court as the coach of his kids' basketball teams. While he enjoys coaching his kids on the hard wood, he said, he isn't pushing them into to tennis. If it's something they want to pursue, he said, he wants them to discover it on their own.
In addition to his work with Mobile Preschool Tennis, Godwin also serves as the tennis pro at Kings Creek Country Club in Rehoboth and Villages at Bear Trap Dunes in Ocean View. He was also selected to serve as the pro for the city of Fort Lauderdale and travels to Florida for work about five times a year.
His tennis career has come full circle, as he often teaches and holds tournaments and events at the Jimmy Evert Tennis Center, where he was inspired to pick up a racket.
If that isn't enough, he said, he still holds camps, clinics and does private lessons.
"When I started my career in tennis, I wanted to have a unique statement. That statement was families playing together," he said. "If I am teaching the son or daughter first, I try to expose the parents as well because it's an activity they can all do wherever they are."
He also tries to incorporate a charitable angle to his work whenever possible.
"As tennis professionals, we have somewhat of a voice in whatever community we find ourselves living and working," he said. "I have always felt it was important to use that voice to help others."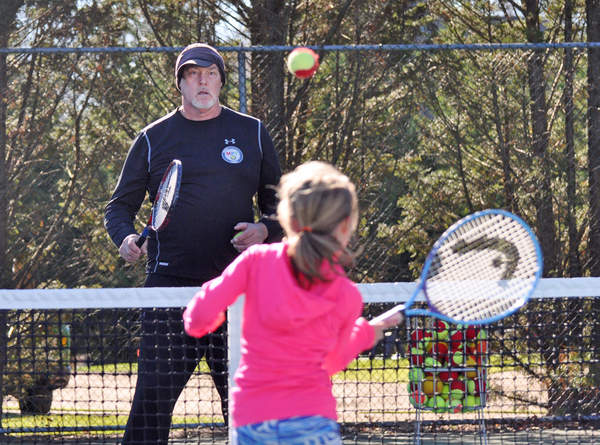 Marty Godwin practices with his daughter Maile. (Photo by: Nick Roth)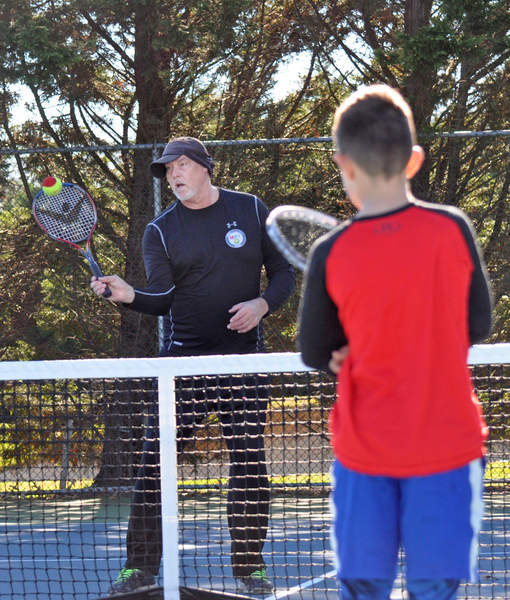 Marty Godwin rallies with his son Miles during a recent afternoon at Kings Creek Country Club. (Photo by: Nick Roth)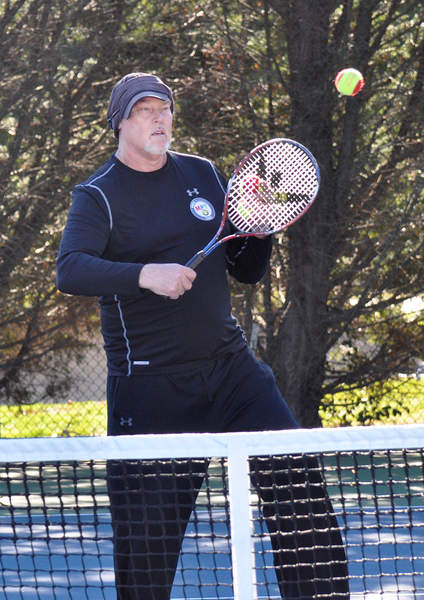 Marty Godwin keeps the rally going with his children. (Photo by: Nick Roth)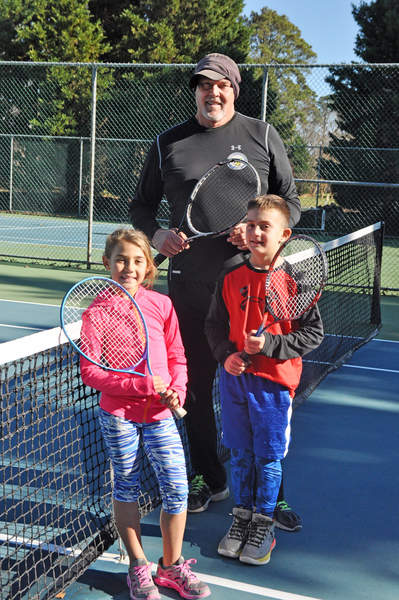 The Godwin family poses for a photo on the Kings Creek Country Club courts. Shown are (l-r) Maile, Marty and Miles. (Photo by: Nick Roth)